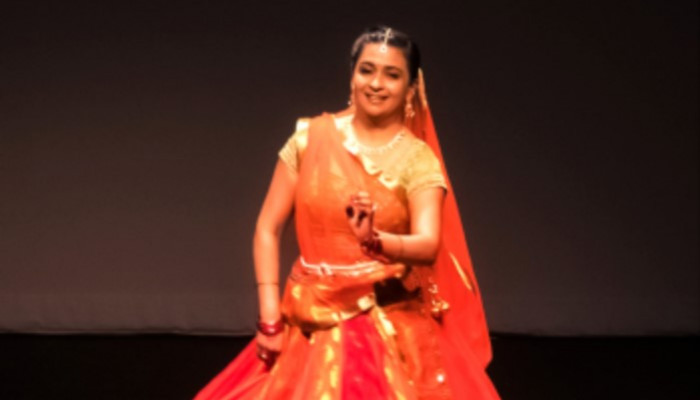 Guru's name/s –

Guru Abha Wamburkar.

Guru Asawari Rahalkar from Srushti Kathak Kendra

Guru Smt.Roshan Datye from Nrityabharati Dance Academy.

Guru Smt. Shama Bhate from Naadroop, workshops for the past 2 years

Workshop done from Guru.Smt Maneesha Sathe


Experience in the field of teaching Kathak –


a. 4 years in Florida

b. 7 years in Austin till date



Projects -

NrityaVarsha Dance Academy students performing at the TCA Ugadi Festival 2018.

NrityaVarsha Dance Academy student was selected as one of the winners in Staar Kalaakaar Houston 2017, dance competition.

Hosted, Directed and Performed Jhankaar 2017 - a fundraising concert for CRY America, we raised $1000 for the CRY America

Kathak Performance for the Austin Spurs Basketball game February 2017 at the H-E-B Center, Cedar Park.

Choreographed Kathak on the song Aruni Kirani for the South Asian New Year Festival at Zilker Park April 2016.

Danced and Choreographed multiple Lavanis for AMM's Roupyavishkaar August 2015

Choreographed a musical ballet in Kathak for AMM's Roupyavishkaar August 2015

Created "Jhankaar - Kathak Recital 2014" which included traditional Kathak dance performances on Taranas and Thumris as well as fusion music like Aao Balma (Coke Unplugged)

Choreographed Kathak dance on Natrang from film Natrang.

Choreographed and performed a Rajasthani and Bollywood medley for the AMM Diwali event.

Choreographed and performed a Kathak group dance at the South Asian Festival, Zilker Park on the music "Navras" from the movie Matrix Revolutions.

Won first prize for "Manmohini", semi classical dance performance by students of NrityaVarsha Dance Academy

Choreographed semi classical dance on "Dheem Ta Dare" for Austin Marathi Mandal Ganesh Festival 2011

Choreographed and performed for Asian Festival at Zilker Park, Austin, Texas 2011

Choreographed and performed traditional Kathak which included tatkaar and Todas/Tukdaas at Pohela Boisakh Austin in 2011

Choreographed and performed for Taste of India 2010, at Texas Christian Association, Austin

Choreographed and won the IRCC Indian Idol Dance trophy, 1st place, Florida 2009 at the IRCC Idol Talent Show in Cooper City, Florida.

Choreographed and co-ordinated dance: "Aika Dajiba" for Ekal Vidyalaya, Hollywood, Florida.

A Key performer in various classical dance segments including Bharatnayam and Kathak at the fundraiser, Jazz Yatra on March 22nd 2008, for the Sahara organization for distressed women.

Choreographed a Kathak medley for my students, "Aja Nachle" at the Sindhi Association Florida.

Choreographed "Dholi Taaro Dhol Baaje" for a group of 6 students at the IRCC Diwali Show.

Performed a Bollywood medley for Maharashtra Mandal of South Florida2006.

Performed in a Naatak (theatrical play) in Marathi called, "Navra vikane aahe".

Performed in a professional Gujrathi theatrical play called, "Kaana e' maari aankh" in Pigeon Forge, Atlanta and Tennessee, Florida (2006).

Choreographed and performed a remix Bollywood dance at Florida Atlantic University, Annual Festival of 2006.

Choreographed and performed a Goa dance, "Me hai koli", at the Association of Americans in India, South Florida Chapter (AIA), Independence Day Festival 2006.

Choreographed and performed a remix Bollywood song at the Bangladesh Festival 2006.